Imagine you're shopping for skincare, surrounded by a dazzling array of creams, serums, and lotions promising perfect skin.While you're wondering, you've likely heard about skin lightening treatments and whether they hold the secret to a flawless complexion.
This quest for flawless, even-toned skin has driven many individuals to explore skin lightening treatments. In this blog, we'll delve into the science behind skin lightening, explore its benefits, and discuss safety considerations to help you make informed choices about your skincare journey.
Understanding Skin Lightening Treatments
Skin lightening treatments encompass various procedures and products designed to reduce the appearance of dark spots, uneven skin tone, and hyper pigmentation. These treatments often involve the use of topical creams, chemical peels, laser therapy, or microdermabrasion, among others. They are commonly sought after to address issues like age spots, sun damage etc.
Benefits of Skin Lightening Treatments
Even Skin Tone: The primary benefit of skin lightening is achieving a more uniform and even complexion by reducing the appearance of dark spots, melasma, and other forms of hyper pigmentation.
Improved Confidence: Many individuals find that addressing skin concerns through lightening treatments boosts their self-esteem, leading to greater confidence in their appearance.
Reduced Signs of Aging: Some skin lightening ingredients, like retinoids, can help reduce fine lines, wrinkles, and signs of premature aging.
Procedure: Skin Lightening at Aarthi Skincare
Ever wondered how a skin lightening procedure works? Allow us to walk you through it step by step. For a more immersive experience, we've embedded a video that demonstrates the entire process. Watch as our expert team helps you understand the magic behind achieving a more even and radiant complexion.
Before vs. After: Witness the Transformation
They say a picture is worth a thousand words, and in the world of skincare, before-and-after photos are the true testament to success. Explore our gallery of remarkable transformations, where individuals have experienced a remarkable change in their skin tone, clarity, and confidence after undergoing our skin lightening treatments. Let these visual stories inspire you on your own journey to luminous skin.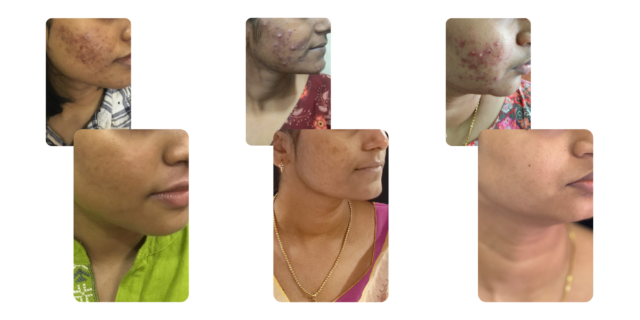 Meet Dr. Aarthi – Your Trusted Dermatology Specialist
With over two decades of dedicated experience in skincare and haircare, Dr. Aarthi is a renowned skin specialist who has not only achieved exceptional results but has also been instrumental in educating numerous dermatologists about this groundbreaking skin lightening treatment. Her impressive track record speaks volumes.
Our exclusive laser treatment for skin pigmentation system is designed to lighten your skin, effectively erasing tanning, pigmentation marks, dark spots, and age spots. It's a versatile solution that works wonders not only on your face and neck but also on any other part of your body.Discover the magic of our system and unveil your skin's natural radiance with Aarthi Skincare!
Lighten Your Skin's Path to Radiance
Our Instagram Reviews
Ready for a glance into the world of skincare magic? Follow Dr. Aarthi on Instagram for her skin-transforming Reels and more. Get inspired and stay in the know about all things skincare. Don't miss out, follow now!
View this post on Instagram